2006 Oscars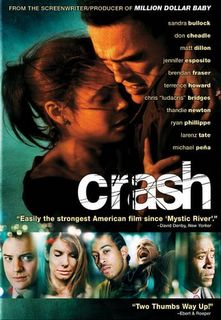 Sitting in a haze of freshly exhaled dope smoke in a house nestled in the Hollywood Hills, I'm penning my Oscars post. The 2006 Oscars might go down in history as the
Gay Oscars
with the world's focus on films like
Brokeback Mountain
and
Capote
which contain homosexual lead characters. Whether it's a flamboyant writer or two gay cowboys... this year's Oscars is definitely going to be the most interesting event in Hollyweird in years. Alas, I'm caught behind enemy lines as I get to witness the carnival-like atmosphere from the inside as neurotic A-listers freak out for days before while jacked up on pharmaceutical cocktails described by their Beverly Hills psychiatrists and practicing their acceptance speeches on the shitter.
I've done my best to see all the nominated films. But that don't mean shit. Like everything in Hollyweird, the Oscars is the ultimate popularity contest and is no way indicative of actually skill and competence. The popular kids are going to win like always and the trend du jour is going to soak up all the press and awards. That's the norm around town, so you have to throw out every rule of film making and cinematical critique. If the trendoids in West Hollyweird are talking about your movie or performance in between ripping lines of blow in the bathroom, then there's an excellent chance that you are going to win.
I'm posting my picks for this year's Oscars and with an added twist, I'm going to have commentary from a known-Hollyweird insider.
Change100
is not only a former child actor, she worked as a sleazy studio exec for a major player in town. She has worked on several films that have won Academy Awards so that gives her picks substantially more credibility than mine. Here's her take on tonight's events:
I love Los Angeles. Though at times she wears down my body and threatens to tear out my soul, L.A. will always be a huge part of who I am.

And today, Oscar Sunday, is like her prom night. As I write these words, the L'Ermitage and the Four Seasons and the Chateau Marmont are flooded with entourages and stylists. Racks of gowns are being wheeled through their gilded hallways up to the nominees' studio-comped suites. The stars will rub sleep out of their eyes and sip coffee while flashbulbs pop and makeup cases are unpacked, and gift baskets arrive, sent by agents and well-wishers, dying for a mention in a potential acceptance speech. The ones who have been through this before might relax into the process and savor the moment, while the first timers may freeze, immobile in the eye of this hurricane of glamour and stardust, wondering just how the hell they got here.

In just a few hours, the end result of all this Hollywood hoopla will be beamed via satellite to the rest of the known universe, and the industry will be able to take a short collective breath before starting this shit all over again next year.
So let's get to the picks for the 2006 Oscars or as my buddy
the Joker
calls it...
The Gay Superbowl
.
Best Actor
Philip Seymour Hoffman - CAPOTE
Terrence Howard - HUSTLE & FLOW
Heath Ledger - BROKEBACK MOUNTAIN
Joaquin Phoenix - WALK THE LINE
David Strathairn - GOOD NIGHT, AND GOOD LUCK
Pauly's Pick:
Philip Seymour Hoffman.
The Academy is going to hook PSH up. He kicked ass in
Boogie Nights
as Scotty J who had a man-crush on Dirk Diggler's monster cock. He also slayed as Brant in
The Big Lebowski
. He took on the difficult task of portraying Truman Capote and even nailed his unique voice perfectly.
Change100's Pick:
Philip Seymour Hoffman.
This is a hard one for me. I want to go with Heath Ledger based on momentum and Hollywood buzz alone. But my gut is telling me that Phillip Seymour Hoffman will win tonight. He fuckin' nailed that part. It's the best performance of the five.
Best Supporting Actor
George Clooney - SYRIANA
Matt Dillon - CRASH
Paul Giamatti - CINDERELLA MAN
Jake Gyllenhaal - BROKEBACK MOUNTAIN
William Hurt - A HISTORY OF VIOLENCE
Pauly's Pick:
Paul Giamatti
. I'm going to predict that gay cowboys go 0 for 2 in the best acting categories. It's hard to ignore Paul Giamatti after he got snubbed last year for
Sideways
. He's come a long way from being "Pig Vomit" in the Howard Stern movie. This is his chance to shine as he played Russell Crowe's corner man in
Cinderella Man
. I wondered how George Clooney can get an oscar nomination since he plays the same fuckin' guy in every movie?
Change100's Pick:
Matt Dillion.
I take a dark horse every year in my picks ever since Marcia Gay Harden won an Oscar for
Pollock
as a 16-1 underdog. Matt Dillon was phenomenal in
Crash
which had a incredible ensemble cast. He was the clear standout. I'm going against the current field who are split between Paul Giamatti and George Clooney.
Best Actress
Judi Dench - MRS. HENDERSON PRESENTS
Felicity Huffman - TRANSAMERICA
Keira Knightley - PRIDE & PREJUDICE
Charlize Theron - NORTH COUNTRY
Reese Witherspoon - WALK THE LINE
Pauly's Pick:
Keira Knightley.
I know Reese is going to win this one, but I'm getting good odds from the Norwegian Nihlists with Keira Knightley. Besides if I ever get a chance to meet Keira and she happens to win, then I can say,
"Go read my blog. I'm the only person who picked you."
Yeah, this category really boils down to the actress I'd like to fuck the most. And Although I hear Judi Dench gives one mean blowjob, I'm sticking with Keira Knightley even though my tits are bigger than hers. Whoever wins is definitely going to cry. If Reese wins... expect to see huge crocodile tears.
Change100's Pick:
Reese Witherspoon.
I'd love to see Felicity Huffman win. She's a cool fuckin'chick and she's one of my good friend's nextdoor neighbor. You should check out
Transamerica
. Although it was not a perfect film, you need to watch it for Huffman's incredibly gutsy and brave performance. But this is the Year of Reese. The wave is going her way. And she's worked it. She worked the system. She worked the machine doing brunch after brunch and Q&A after Q&A. She took home the Golden Globe and I'm certain that tonight she'll take home an Oscar. She was really great in
Walk the Line
.
Best Supporting Actress
Amy Adams - JUNEBUG
Catherine Keener - CAPOTE
Frances McDormand - NORTH COUNTRY
Rachel Weisz - THE CONSTANT GARDENER
Michelle Williams - BROKEBACK MOUNTAIN
Pauly's Pick:
Rachel Weisz.
I didn't see
The Constant Gardener
but Rachel Weisz is the one actress that I want to fuck the most of out the five. The obvious choice is Catherine Keener from
Capote
. She did a good job playing author Harper Lee, but I didn't think she had enough screen time to actually have the best supporting role overall. I know you thought I'd pick the chick from
Dawson's Creek
... but I don't think that
Brokeback Mountain
is going to get any acting awards... just the two big ones.
Change100's Pick:
Rachel Weisz.
I'm also going on momentum in this one. She won the Golden Globe. She won all the critic's awards. No one knows who the fuck Amy Adams is. No one saw
June Bug
. France McDormand has already won one. Catherine Keener was great in
Capote
but not Oscar great. And Michelle Williams is still the chick from
Dawson's Creek
. Rachel Weisz all the way.
Best Animated Film
HOWL'S MOVING CASTLE
TIM BURTON'S CORPSE BRIDE
WALLACE & GROMIT IN THE CURSE OF THE WERE-RABBIT
Pauly's Pick:
WALLACE & GROMIT IN THE CURSE OF THE WERE-RABBIT.
I call this category:
get stoned to the bejesus and watch cartoons.
With a 1 in 3 chance of getting the correct pick, you have to go with the consensus favorite here. How come
Curious George
didn't get nominated?
Change100's Pick:
TIM BURTON'S CORPSE BRIDE.
Oh my God, I didn't see any of these fuckin' movies. I'm going to flip a coin between Tim Burton and the Wallace one. And Burton wins.
Best Art Direction
GOOD NIGHT, AND GOOD LUCK.
HARRY POTTER AND THE GOBLET OF FIRE
KING KONG
MEMOIRS OF A GEISHA
PRIDE & PREJUDICE
Pauly's Pick:
I refuse to pick a winner in this. Someone fuckin' shoot me. When this award comes up, I'm going to go take a piss.
Change100's Pick:
King Kong.
It's a spectacle of a movie and they like to reward spectacles.
Best Cinematography
BATMAN BEGINS
BROKEBACK MOUNTAIN
GOOD NIGHT, AND GOOD LUCK.
MEMOIRS OF A GEISHA
THE NEW WORLD
Pauly's Pick:
The New World.
Wait a sec, Batman got nominated? No way in hell I can pick that. Gay Cowboys? Nope.
The New World
is my pick although I heard that the Academy jerks off to black and white films like
Good Night and Good Luck.
Change100's Pick:
Good Night, and Good Luck.
It's black and white and the Academy has a hard on for that shit.
Best Costume
CHARLIE AND THE CHOCOLATE FACTORY
MEMOIRS OF A GEISHA
MRS. HENDERSON PRESENTSPRIDE & PREJUDICE
WALK THE LINE
Pauly's Pick:
Charlie and the Chocolate Factory.
The costumes looked dammed trippy in
Charlie and the Chocolate Factory.
Change100's Pick:
Walk the Line.
Those were some cool clothes. Reese looked pretty hot in those little 60s dresses.
Best Director
BROKEBACK MOUNTAIN
CAPOTE
CRASH
GOOD NIGHT, AND GOOD LUCK.
MUNICH
Pauly's Pick:
Paul Haggis - CRASH.
I'm not going to go with the favorite and Ang Lee for
Brokeback Mountain
. Ang deserves it and is going to in, but the only way I'll make any money is on an upset, so I'm going to go with Paul Haggis. I'm a fan of his work and hope he pulls this longshot one out.
Change100's Pick:
Ang Lee - BROKEBACK MOUNTAIN.
Best picture and best director so often line up. I feel obligated to give it to what is the best film of the year and one of my favorite Top 5 directors of all time. He's tackled everything and transcended genres from 70s subruban malaise to Jane Austen to hot gay cowboy lovin'. Ang Lee is the man.
Best Documnetary
DARWIN'S NIGHTMARE
ENRON: THE SMARTEST GUYS IN THE ROOM
MARCH OF THE PENGUINS
MURDERBALL
STREET FIGHT
Pauly's Pick:
March of the Penguins.
Penguins are cuter than lying and cheating suits that were in the Enron flick. I wonder if Daddy ever thought about fucking a penguin?
Change 100's Pick:
March of the Penguins.
Do you think that anything but the fuckin' penguins is gonna win?
Best Film Editing
CINDERELLA MAN
THE CONSTANT GARDENER
CRASH
MUNICH
WALK THE LINE
Pauly's Pick:
Crash.
Any film that has multiple threads and storylines needs an excellent editor to keep each story flowing properly. That's why
Crash
is going to win over the life story of Johnny Cash and
Cinderella Man
.
Change100's Pick:
Munich.
You gotta reward
Munich
somewhere and I think it will be here.
Best Picture
BROKEBACK MOUNTAIN
CAPOTE
CRASH
GOOD NIGHT, AND GOOD LUCK.
MUNICH
Pauly's Pick:
Crash.
I think that gay cowboys are going to win. That's what all the cool kids think. But to be honest... was it the best film? No. It was good and had great performances. Best Picture in my definition is a movie that you are going to watch over and over. Is it a movie you will rewind when it's over and start again? If that's the case,
Wedding Crashers
would be my Best Picture because I'd watch that six times in a row and never get bored of it. However, out of the five nominated, I'd say that Crash fits into my definition of best flick and that's my pick.
Change100's Pick:
Brokeback Mountain.
It is the year of the gay cowboy or
Faggot Cowboys
as they say in Turkey. I just don't know how to quit these boys. Brokeback wins my personal crown for best film of 2005, and for the first time since
American Beauty
captured Best Picture in 1999, the Academy and I will agree.
Best Adapted Screenplay
BROKEBACK MOUNTAIN
CAPOTE
THE CONSTANT GARDENER
A HISTORY OF VIOLENCE
MUNICH
Pauly's Pick:
Capote.
It's a screenplay about a controversial writer. This is the year to be gay in Hollyweird so why not honor the other flick with the homosexual main character?
Change100's Pick:
Brokeback Mountain.
I so wanna pick
Capote
. It represents everything I love in a screenplay-- simplicity, elegance, emotion, and brilliantly layered characters. I'd hire Dan Futterman on anything, that is if I still had any semblance of power. But the tide has turned in Brokeback's direction, and after Larry McMurty and Diana Ossana's victories at the Golden Globes and the BAFTAs, I have to put my money on another victory for them tonight.
Best Original Screenplay
CRASH
GOOD NIGHT, AND GOOD LUCK.
MATCH POINT
THE SQUID AND THE WHALE
SYRIANA
Pauly's Pick:
Crash.
These days when you see a flick with Sandra Bullock in it and forget she's in it... then you know you have excellent writing. I almost picked
Syriana
and Stephen Gahgan. He won an Oscar for
Traffic
a few years ago but it's a heavy and too complex. Crash is just a better story.
Change100's Pick:
Crash.
All five are total standouts and should be examined as examples of great screenwriting. But the machine has promoted the hell out of
Crash
and that, coupled with racial themes, controversy, and a slew of strategically placed op-eds should allow Paul Haggis to coast to victory. He's come a long fuckin' way from writing for Canadian TV.
* * * * *
That's it for now. Let's see if I can make any money on the damn Oscars. I'm gonna need cashola if I wanna bribe doormen to let me in at those swank post-Oscar parties so I can get a picture with Reese Witherspoon and her Oscar.