The NY Jets Destiny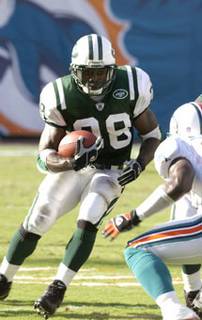 Curtis Martin's the man this year
The Jets are going to win today. I took them with the money line, with the points, and I like the under. Big bucks on my hometown team. That spells doom. A few weeks ago in Vegas, some big jarhead scoffed at me when I told him I had money on the Jets . "Root for the Jetties... but never bet on them," he extolled in his thick New York accent. Fuck the goombas who relocated to Nevada. What did he know anyway? He was drinking Budweiser and playing $1 video poker at the bar in the Sports Book at Mandalay Bay Casino.
The Jets defense will step it up led by rookie stud sensation Jonathan Vilma. He won the
NFL's Defensive Rookie of the Year
award. Jerry is a big U of Miami football fan and he's also a season ticket holder. He watched Vilma develop over the duration of his collegiate career and often remarked how awesome of a player he was going to be. Man, Jerry would make a great NFL scout. He was right.
I expected that the return of John Abraham will inspire the rest of the defense, alas,
that's not going to happen
. But I'm not worried about them. With the weather has been shitty in Southern California, and if it rains during the game... that should make things interesting.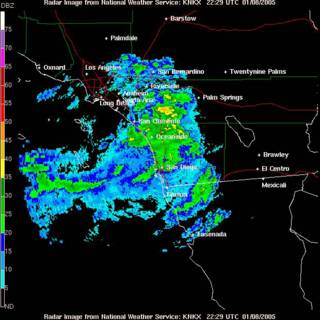 I hope it keeps raining in San Diego.
I'm gambling on a low scoring game because that's the only way the Jets can win... if they can limit San Diego to two TDs. That seems nearly impossible... considering Drew Brees, LaDamlian Tomlinson and Antonio Gates are touchdown machines. I have faith in the Jets defense. They held LD to less than 100 yards in their first meeting.
If San Diego scores more than two TDs... then Chad Pennington must step it up and toss two or three himself. How many times has he thrown for three TDs this season? He's only done that twice. Pennington has thrown multi TDs in just 5 out of 13 games (versus Drew Brees 7 out of 15 games with 2 or more TDs). That lack of passing offense is due to Paul Hackett's ineffective play calling. Sure
Curtis Martin is the NFL's leading rusher
... but when they Jets called passing plays, very few were for 30 yards or more. And everyone is playing hurt, not just Pennington. The passing game is too conservative and if the Jets don't mix up their play calling, the San Diego defense will sit back and clog the line to stop Martin. Make them pay for that. Sometimes when you take chances, there are high rewards for taking those risks. I hope the Jets figure out something quick otherwise the season ends tonight.
Pennington played one of the
best games of his career earlier in the season against San Diego
. If he can repeat that performance, the Jets will win. I hate to put the entire playoff load on Pennington's shoulders... but here we are. If Herm Edwards wants to be known as a great coach,
his opportunity is tonight
to lead his troops into battle.
Picks of the Day
I also like the Rams today +4. Take 'em too. Something about the Seachickens rubs me the wrong way. That's two road dogs for me. I'll probably split them. Let's hope it's the Jets who prevail, or at least, cover the spread.