October Glory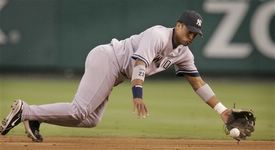 Last night marked the first of what I hope will be many long nights in October. My home town team, the
Yankees took the first step towards regaining pinstripe glory with a 4-2 victory
over the
California Anaheim
Los Angeles Angels.
The Moose was loose!
Mike Mussina looked excellent in his six innings. He was getting a lot of first pitch strikes to batters and he's tough to beat when he's ahead in the count. Moose's stellar pitching performance was much needed from the Yankees. Add Robinson Cano's huge bases clearing double during a two out rally in the first inning and that ended up being all the Yankees needed to take a quick 1-0 lead in a short series against the Angels.
Sure Mo Rivera almost blew the save and made it interesting over the last inning, but he closed the door and the Yanks won a crucial Game 1. I liked the fact that the Yankees started Bubba Crosby in CF instead of Bernie Williams and had Bernie as the DH.
Of course, the Red Sox lost to the White Sox earlier in the day which is always elating and the Cards also took a 1-0 series lead. Tonight, the Yankees and Wang need to pick up one more win before they return home to the Bronx on Friday and have Randy Johnson pitch.
In today's action David Wells tries to even the score for the Red Sox in Chicago against Buehrle. And the Astros and the Braves play Game 1. I'd like to see a St. Louis Cardinals and NY Yankees World Series. What can I say, I'm an old school kinda guy.