The Barcelona Open
Well, I'm done with covering the Barcelona Open at the Casino de Barcelona. Frenchman Jan Boubli won the event (and $416,000 Euros) and I got to announce the final table for the audience again. I messed up several times because I was more nervous. On Saturday there were not too many people in the crowd and the early stages of a poker tournament are not as important as the final table. But there I was under the hot lights for two hours. All my fellow media reps were more than helpful in making sure I was comforatble. Plus the nice gals who were the production assistants did their best to make things flow smoothly. That British production team was prfessional and a lot cooler than ESPN, who covered the World Series of Poker in Las Vegas.
If you want to read about what happened in more details, visit my
poker blog
to read the recap.
Oh, yesterday, I ate lunch at the mall next to the Princess Hotel. Man, it was jam packed with hot women on a Saturday afternoon. Talk about leaps and bounds from the skinny toothless crack whores who roamed the hallways at the Redneck Riviera.
So my short-lived European TV career has come to an end. David Hasselhoff can breathe a sigh of relief. Although, I hear I'm huge in Belgium. I love that "line" from the 1990s flick
Singles
when Matt Dillon played the stoner lead singer of
Citizen Dick
, which also included actual members from Pearl Jam, and he told a music reporter that his band was big in Europe.
I spoke to John Duthie, creator of the EPT and he said some positive things about my annoucing stint yesterday. "It's good to hear an American voice do poker. It's proper." His feelings were echoed by one of the guys in the "truck." He explained, "When you hear a documentary, you expect to hear a British voice. With poker, it's natural to hear an American voice. It sounds right." Maybe I can parlay this into a gig! Ah, probably not. They were all being nice. I'm glad I didn't fuck up as a pinch hitter.
Here are some random pics:

The final 5 tables



Media Row



Moving all in



The Prize Money!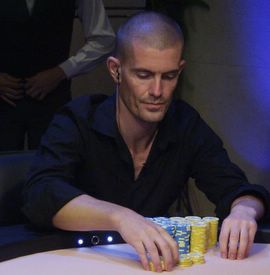 Seat 1: Gus Hansen (Denmark) 3 time WPT Champion



Seat 2: Patrick Mortensson (Sweden)



Seat 3: Jan Boulbi (France)



Seat 4: Romain Feriolo (Spain)



Seat 5: Christer Johansson (Sweden)



Seat 6: Patrik Antonius (Finland)



Seat 7: Anton "Doogie Howser" Bergstroem (Sweden)



Seat 8: Dario Alioto (Italy)



Jan celebrates his victory



Jan Boubli the 2005 Barcelona Open Champion



Jan's check



I was filling in for Thomas Kresmer
That's it for now. On Tuesday, I'll be in Atlantic City, NJ for a few days where I'll be covering the World Poker Tour and the Borgata Open.