The Day Before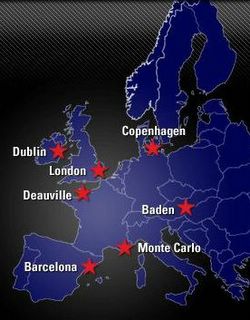 I've been writing, partying, and traveling all of my life to prepare for the next two weeks. I'm leaving for Europe in a few hours. I'll be in Amsterdam until Wednesday morning and then I fly to Barcelona to cover the first event (the Barcelona Open) on this year's
European Poker Tour
. I have never been to Barcelona before and that adds to the excitement of this trip. Plus I get to see a lot of European media and press (and players) whom I worked with during my stint in Las Vegas covering the EPT like the Irish guys from
Antes Up
... Mike Lucky Blind Lacey and Tom Murphy and the crew from
Blonde Poker
. Not too mention the folks I met through
Otis
at
Poker Stars
, especially his lovely asistant Mad, who lives just outside of Barcelona. She offered to let me crash at her flat before the event begins and I move into the swanky Princess Hotel.
Amsterdam is a city where I've wrecked havoc in the past. I always like going back. My time there will be dedicated to rest and relaxation, oh and I get to see
Briana
for the first time in four months. I even got a haircut. I'm assuming we're going to be spending a significant amount of time swapping stories about our summer while sitting in cafes, taking long walks through Vondel Park, while trying to score a bottle of Absinthe.
After Barcelona is over I have to fly back to NYC. That day will be one pain in the ass. I fly Barcelona to Amsterdam via Paris. And then Amsterdam to NYC. I wish I found a cheaper direct flight from BCN to JFK, but no such luck. When I arrive home in NYC, it will be after Midnight. I'll have a few hours to collect myself, write, shower, get a fresh batch of underwear and the remainder of my bankroll before I pick up a rental car and drive to Atlantic City to cover the WPT Borgata Open. Talk about a hectic traveling schedule. Ah, but that's why I get paid the big bucks. But of course my entire two week trip ends with the Bash at the Boatyard courtesy of
Al Cant Hang
. I can't think of a better week to end a two week trip than to celebrate it with Al and his crew.
I'm still shocked that a degenrate psychopath like myself is getting to cover poker tournaments. As always, thanks to the
Poker Prof
for the giving me this amazing opportunity to write and travel. Keep that bail money handy.
Depending on internet access, I will be updating my blogs as often as I can. In addition,
Flipchip
hooked me up with a new camera. So unless I fuck up things completely or it gets stolen by a hooker in Amsterdam, I should have some quality photos to post here and on
Las Vegas
and Poker Blog.
Before I head to the airport, I wacthed Jets play their opening game. I have a feeling it's gonna be a long season for Gang Green after their awful first half. It's all about how well Curtis Martin rushes this year. And if Chad Pennington can hold onto the friggin' football. Damn, I miss football. Wait, I meant to say... I
miss
gambling on football.
I haven't packed yet. I did a rare pre-pack the other night and realized I was taking too much shit. So I condensed everything to my laptop case and one carry-on bag. I will pack after the Jets game. I got my passport, $400 in Euros, some of my poker bankroll in Benjamins, a camera, seven pairs of underwear, my laptop, and a map of Barcelona. I'm ready for my European excursion.
Vegoose Update
The
Joker
and I scored tickets for several late night shows during Vegoose including Trey Anastasio Band, STS9, Widespread Panic, and Dave Matthews with Tim Reynolds. We're hoping to pick up hippie/hispter chicks at the Dave & Tim show.
Final Thoughts
I've been running awful in September. My bankroll took a hit. I know 1/3 of the losses has been playing in Katrina Relief tournaments, so that money went to a good cause. However, I had a bad run at the $5/10 tables on
Party Poker
and that's why I'm down this month. I always like to be running good before I go away on a trip. I will try to play in Barcelona or in Atlantic City. Talk about two contrasting gambling scenes... from the uber-rich to the uber-desperate.
Last night I hung out with some old friends. I've known Senor and Gitty for fifteen years, since college and I've known Girtz for almost a deacde. We had a few drinks in the Village and caught up with each other's busy lives. In the mid 1990s we used to hang out all the time together and now that we're all in our 30s, we all are on different paths in life. We sat at table in the back of Dublin (near the Whire Horse Tavern) and Girtz wanted to play cards. He ran outside to the bodega a few doors down and found a deck. We played $1/2 hold'em in the back of the bar for a few hours. A table of trendoids next to us played Connect Four. I lost a little bit and Senor cleaned up. I hate a late night slice of pizza and that soaked up all the SoCo I consumed furing the course of the night.
I taped an episode of the
Lord Admiral Card Club
with Sean on Friday night. Stop by his
site
and download this week's episode. It should be up by Sunday night.
That's it for now. The next time I post, it will be in Europe.