Sweet Virginia!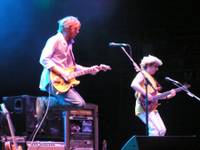 Trey and Mike during You Enjoy Myself
Phish added one more show to their last tour
... for a total of six!! The new show will take place on Monday, August 9th in Hampton, Virginia.... before the tour was scheduled to begin in Great Woods (Boston), MA on the 10th. Now the tour is going to be freaky... Virginia > Boston > Philly > Vermont. That's a lot of I-95 hours.