Super Trey and Zooma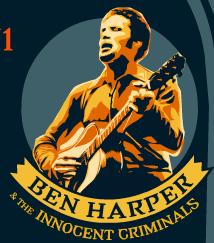 Trey Anastasio and Ben Harper will headline the Zooma Tour this summer.
Here's a bit:
Superfly Productions, and AC Entertainment have announced the Zooma Tour, "A Bonnaroo Event", ready to hit the States June 16 - July 31. Headliners will be Trey Anastasio and Ben Harper & The Innocent Criminals. Additional artists, tour dates and on sale info will be announced shortly. Zooma is the first attempt to spread the Bonnaroo name beyond the landmark Tennessee festival held the past four Junes in Manchester, TN. The Zooma tour will be a multi-faceted entertainment event featuring two performance stages, and a complete activity village with vendors and plenty of attractions. Inspired by the Bonnaroo Music Festival tradition, Zooma Tour will extend the festival's spirit, presenting diverse lineups to open minded music fans in local communities.
The tourdates will be posted on the
Zooma website
very soon.
Trey Anastasio will take part in a SuperJam
at the State Palace Theatre in New Orleans. That show will take place on Saturday, April 30th. The line up is sick! Skeeto Valdez, Greg Davis, Les Hall, Roger Lewis, Ray Paczkowski, Cyril Neville, Sunpie Barnes, and Peter Chwazik. More guests will be added in the upcoming weeks.