Random Rhode Island Stories
"Try to make a woman that you move, ooooooooooh
And I'm sharing inthe Weekapaug groove." - Trey Anastasio
20 Oct 2004
... It was about a little more than a year ago when I started to make frequent road trips up to Foxwoods casino in Connecticut to play poker. I became familiar with the drive from the city via the Hutchinson River Parkway, a four lane winding highway, surrounded by trees and hills with a 40 mph speed limit, no trucksand no buses allowed, and no cops anywhere. It's a road where people regularly drive 80 mph through the splendidly colored foliage of Connecticut. In recent years the seasons usually jumped from summer to winter and straight into summer with a few rainy weeks in between. I missed the brisk autumn days where I would see shades of red, orange, and yellow colored eaves were a hundred different colors and no two leaves matched. Driving through New England in late October always reminded me of Nordic looking blondes in wool sweaters discussing Sartre and sipping hot chocolate, something resembling page 34 out of the LL Bean Christmas catalogue.
Senor moved his wife and son from Providence to Naragansett, Rhode Island... famous for being the childhood home of one of our other fraternity brothers and probably more famous for being mentioned in several of Spalding Gray's novels. Spalding often fondly spoke of the Rhode Island beaches in his manuscripts and monologues. Even Phish penned Weekapaug Groove, a favorite song among many of it's adoring fans, after a weekend trip to party at a house in Weekapaug Beach when they were in college. I knew it was a good sign when I checked for directions to Senor's beach house and I realized that I was supposed to get off at the same exit as Foxwoods Casino! Instead of making a left at the light, I made a right and followed the road to the Rhode Island beaches. Forty minutes later, I arrived at the street that ran parallel to the coast where Senor's winter rental was located. As I drove up with the windows down, I inhaled the tantalizing ocean air. I could see the bluish-grey waves tumbling onto shore with the distant Judith Point lighthouse getting closer and closer. When I pulled in, I could see Ang waving at me with Little Senor in her arms.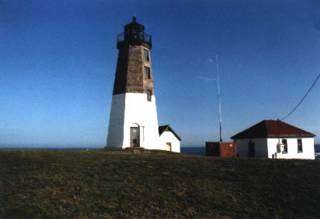 Point Judith Lighthouse
I walked in the front door and I was greeted with "Here's Uncle Pauly!" by Senor and Ang. Little Senor was standing up in his red jumpsuit, with a Cookie Monster on the front. He reluctantly took a few steps towards me before smiling and showing me the beginning of his first two teeth. He likes to touch things and quickly put his little hands and fingers on my left check. He pressed hard before letting go and smacked me twice before he gurgled. The last time I saw Little Senor, he was crawling around everywhere, struggling to pick himself up. Now he was walking all over the living room and kitchen while Ang prepared dinner. I handed Little Senor another new Dr. Suess book for his collection. Next year I'll start him on some of the heavier Scandinavian existentialists. For now, it was just Suess.
Senor drove me around Naragansett for an hour or so showing me all his favorite views and streets. He pointed out the old casino near Naragansett Pier. We stopped by a package store to buy beer and the placed was crowded with University of Rhode Island students loading up liquor for that night's big game.
Ang was gracious enough to cook a few Thai specialties, like fried rice, spicy beef curry with sweat potatoes in peanut sauce and my favorite, garlic chicken. We quickly caught up on things and set a schedule for the next few days. I joked around with Ang and asked her who she'd vote for if she could vote. "Kerry," she assured me. Yep. We were not only behind enemy lines in Red Sox Nation, but I was also in John Kerry's stomping grounds. Rhode Island has always been one of the most liberal states as far back as it's colonial days.
After dinner I watched Senor feed Little Senor mini-sized Mandarin oranges. The little kid loves oranges. Senor would shut the lid and he'd try to get more.
It was Wednesday night and we had a difficult decision to make. I had picked this specific week to follow Galactic through several cities on it's northeast tour. When I made the plans, I overlooked the fact that the days coincided with the MLB playoffs. Earlier in the week I canceled playing in a poker tournament at the Blue Parrot to watch Game 5. I canceled a trip to Boston and the Galactic show to watch Game 6 of the ALCS. And I came up to see Senor because we intended to see Galactic at one of my favorite venues... Lupo's in Providence. Unfortunately, Game 7 was looming. Yankees vs. the Red Sox. The choice was easy. Despite the fact we had tickets, we passed on the concert and popped open a few beers and watched the game in his living room. It had been a very long time since Senor and I sat and watched a sporting event together... March of 2003 in Las Vegas, with my brother when we went to gamble on March Madness and watched the college basketball tournament in the Sports Book at the Mandalay Bay Casino.
Wednesday was a historic night for every Red Sox fan. And Little Senor was too young to understand the cosmic significance of the night. His old man did, and watching the game as a die hard Yankees fan was difficult. Oh well. At least I got to see that game with the biggest Sox fan I know. Of course, I'll always remember where I was for Game 7 of the 2004 ALCS. When it was all over, there was no shit talking or gloating. We simply shook hands and succumbed to the utter mental exhaustion of the past week's marathon games. Senor went to bed and I went to drown my sorrows in a couple hours worth of writing. I'd occasionally pop outside for a smoke, even once walking down to the water to gaze up at the overcast sky. The smell was slightly intoxicating. I'd trade ocean air anyday for the stale stench of NYC subway urine.
Little did we know that Galactic canceled the Providence show and Senor was issued a full refund for the tickets. Very cool. Here's the email that they sent:
Tonight's show at Lupo's in Providence, Rhode Island has been cancelled due to tremendous interest in the ALCS baseball playoff match scheduled for tonight. Refunds will be given at the point of purchase. Tickets will also be honored at Galactic's show at Toad's Place in New Haven, CT. tomorrow night. We apologize for any inconvenience and appreciate your understanding.
21 Oct 2004...
I woke up early and couldn't fall back asleep. I was bunking downstairs in the basement which was Senor's office and doubled as the guest bedroom. It was fairly large and had sliding doors that looked out into the ocean. I could hear Little Senor motoring around upstairs before he left for his play date in Providence. When Senor woke up we headed off to Foxwoods. I stopped at Dunkin' Donuts for a few chocolate frosted and bought an ice tea for the drive.
We arrived at Foxwoods faster than I expected and we were seated at a $4/8 hold'em table right away. I'll write up the specifics of my poker play later on. For now, I'll tell you that I sat at a table with one guy who looked like Ernest Hemingway and of course everyone at Foxwoods was a friggin' Red Sox fan. I lost just $15 after five five hours of play. We wandered over to the food court for some chicken fingers. I got a free lunch, one of the perks of playing endless hours of poker there in the past year. Nothing is better at Foxwoods than their chicken fingers. After lunch, I decided to play in a satellite for the World Poker Finals due to start in November. I signed up for a $150 Act II Satellite with a $1050 seat in an Act III tournament going to first place. I ended up coming in 4th place and missed prize money by one place. Down $165 for the day, I was ready to drive back to Naragansett.
Ang told us about Little Senor's play date on our ride to dinner. We ate at Friendly's in a town nearby, which was crowded with plenty of other families. Little Senor is one of the most friendliest kids I have met. During our wait for an empty booth, he would walk up to other small children in line and press his hand onto their torsos. Our waitress was enamored by Little Senor. She kept saying, "He's so beautiful!"
Yep. She was completely in love him, stopping everytime she passed by to ogle at him for a few minutes while she made a goofy face. Little Senor ordered chicken fingers and I decided to get a bacon and Swiss burger. My dessert was a chocolate shake. Yummy. Little Senor got a little testy after dinner and Senor let him out of his high chair to walk around. He ran off into an adjacent section. Senor gave me a look, "You wanna go get him?"
I sprinted into action and found Little Senor standing at the foot of a table with two attractive URI students. They were waving "Hi" when I finally caught up to him. They laughed when I picked him up and carried him back into our section.
"They're also in love with you too little man. Here's the deal. I want you to run back in there and go back to the same table."
I put down Little Senor and he darted for the other section. On cue he walked right up to the table of coeds. The blonde smiled, "You are sooo cute!"
"I'm sorry about that. My nephew just started walking a week or so ago. Now he won't stop."
"It's OK," they both said in unison. "He's sooo adorable."
Little Senor flashed him his patented smile and exposed his two little teeth. "Totally. He's more cuter than a basket full of puppies. By the way, I'm Pauly."
"I'm Amanda and that's Katie," the cute one said.
"And this handsome devil's named Little Senor."
He gurgled some more as they fussed over him. Some chicks have baby fever.
"Why do you call him Little Senor?"
"It's a funny story. Lemme buy you girls a few drinks and I'll tell you all about it."
***** ***** *****
Galactic was scheduled to play a concert in New Haven. I skipped another one of their shows and chose to play poker online in a poker bloggers tournament. I downloaded the software and got ready to play against 133 fellow bloggers and readers featuring a celebrity guest,
Wil Wheaton
and a $800 first place prize. I came in a not so impressive 63rd place but I had fun playing with
my brother
, friends, some of my favorite bloggers and some fans of my blog(s). Before I crashed I took a smoke break outside along the breezy sea wall. In my mind, I replayed most of the hands during my stint at Foxwoods and online. I made a few mistakes and assured myself that I made plenty of correct plays. I eventually went back inside and wrote for a few hours before I passed out shortly before sunrise.
When I got up the next morning, I quickly went back outside and inhaled as much morning air as possible before took some pictures and I jotted down my thoughts about the previous night's blogger tournament.