Thursday Link Dump: Star Wars, Drunks, Ecstasy Mules, and Rex Chapman
What is a Wookiee?
is not about making fun of hippies on Phish tour. It's about making fun of
Star Wars geeks
. By the way, the new film opens pretty soon. I might see it in Las Vegas.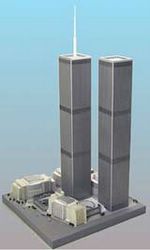 Since we're talking about Star Wars, I caught this random piece in the NY Times called
Latest 'Star Wars' Movie Is Quickly Politicized
. Sometimes a movie is just a movie.
Donald Trump wants to rebuild the Twin Towers
and rejects the Freedom Tower idea. Wow, I actually agree on something with Trump. Let's rebuild the fuckers. Of course that will make them a target once again, but so be it. I can't think of a finer tribute to people who died there than to rebuild the old towers on the exact spot.
File this one under: Only in Minnesota.
Drunk Man Steals Krispy Kreme Truck
is a hilarious story.
Al Cant Hang
is unavailable for comment.
Snatch Smuggling Ecstasy Mule
was busted at the Canadian border. No wonder my last hit of E tasted like chicken and smelled like tuna.
Speaking on drug busts, did you know that
drug busts means big bucks for small town America
? Word to the wise... if you are driving with several pounds of dope in your car, make sure you don't speed or have working tail lights.
Outrage and Silence
is sobering read from Thomas Friedman who thinks it takes help from the Sunni Arab village to stop a wave of suicide bombings happening in Iraq.
ESPN Writer Busted for DUI
is a funny tale about a drunk who try to run away from police and was tasered in the process. Damn drunk sports writers!
12 Year Old Sits on 12 Pack of Bud Light to Drive Car
has got to boost Bud Light sales nationwide, especially among midgets and twelve year olds.
By the way,
don't piss off grandma
. Another sex prank gone wrong Down Under. Be careful who you call up for a quickie.
One of my favorite college basketball players, Rex Chapman, spills the beans on the
anti-interracial dating stance by Kentucky officials
. Wow. This is a shocker. There's racism in a Red State? My boy Rex Chapman and some serious ups.